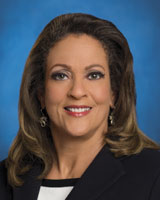 Lisa Thomas-Laury joined 6abc on February 20, 1978, as noon co-anchor and reporter. In 1983, she became co-anchor of Action News at 5pm. Currently, Lisa contributes reports and specials to all editions of Action News.

For two decades, Lisa hosted 6abc's award-winning monthly Public Affairs program, Fast Forward, and its "Children First" series, as well as special events such as the annual 6abc Thanksgiving Day Parade, and 6abc's annual Best of the Class special, which pays tribute to the area's outstanding high school seniors.

Lisa earned her B.A. Degree in Broadcast Journalism from Marshall University in Huntington, West Virginia. While attending Marshall, she became the state's first African-American TV weather personality, reporting the weekend weather for WSAZ-TV.

After graduation, Lisa became a morning news anchor/reporter/photographer for KTVY-TV in Oklahoma City, Oklahoma. Her professional abilities then took her to WTVF-TV in Nashville, where she was the education reporter and received the Tennessee "School Bell Awards" for her education series on the gifted child.

In her early years at 6abc, Lisa was recognized for her special series on hard-to-adopt children, and she placed first in an Associated Press competition for her special Thanksgiving series, "Five Families Give Thanks."

In 1981, Lisa received high praise for her week-long reports from London, England on Princess Diana's Wedding.

Mrs. Laury has covered numerous political elections and the Republican National Convention in Philadelphia in 2000. She has also received numerous community service awards, including one from the local chapter of the Negro Professional and Business Women's Association, the United States Jaycees, and American Women in Radio and Television.

She was honored by the Camden County YWCA as a TWIN award recipient for her outstanding accomplishments, and was the 1996 recipient of the prestigious "Sarah Award," presented to outstanding women in the media by the local chapter of Women in Communications. Lisa was awarded and Honorary Doctorate from Holy Family College in 2000. In 2003, she was named Best TV Anchorwoman by the Main Line Times, the same year she was diagnosed with a rare nerve disorder, called POEMS syndrome.

Lisa left WPVI in November 2003 after her illness paralyzed her vocal chord, leaving her unable to project her voice. In 2004 she received the "Braveheart Award" from the local chapter of the NAACP, for her dedication to her work and community, despite her illness.

Lisa underwent a bone marrow transplant at the prestigious Mayo Clinic in Rochester, Minnesota in July, 2004 and returned to 6abc as a reporter and anchor two years later. She is currently an honorary chairperson for Maternity Care Coalition, an organization that supports mothers in need throughout the Delaware Valley.

She was awarded Philadelphia's most prestigious honor, the Liberty Bell Award, from the Mayor's Commission on People with Disabilities in 2008. The Commission cited her devotion to improving the lives of people in the Delaware Valley who live with disabilities.

In 2009, Lisa was awarded an honorary doctorate of Humane Letters from both Rosemont College in Montgomery County and Pierce College in Center City. Also in 2009, Lisa received a Lifetime Achievement Award from the Philadelphia Association of Black Journalists.

She is married to Dr. William Laury, a Philadelphia internist. Her oldest son, Langston, graduated from Brown University in Providence, RI, in 2005. Her younger son, Leland, is a 2008 graduate of the University of Virginia in Charlottesville.
---