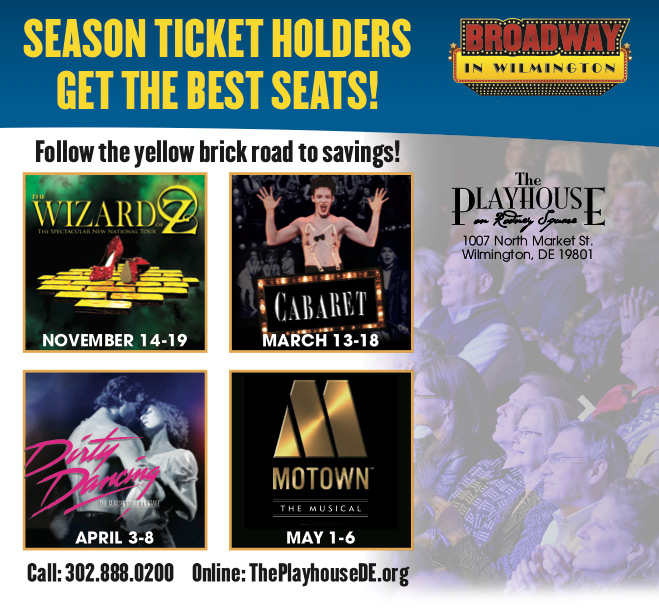 CABARET @ PLAYHOUSE
Mar, 13, 2018 - Mar, 18, 2018
Based on Roundabout Theatre Company's Tony Award-winning production, Sam Mendes (Skyfall, American Beauty) and Rob Marshall's (Into the Woods and Chicago, the films), CABARET comes to The Playhouse for the first time! Welcome to the infamous Kit Kat Klub, where the Emcee, Sally Bowles and a raucous ensemble take the stage nightly to tantalize the crowd-and to leave their troubles outside. But as life in pre-WWII Germany grows more and more uncertain, will the decadent allure of Berlin nightlife be enough to get them through their dangerous times? Come hear some of the most memorable songs in theatre history, including "Cabaret," "Willkommen" and "Maybe This Time." Leave your troubles outside - life is beautiful at CABARET- John Kander, Fred Ebb and Joe Masteroff's Tony-winning musical about following your heart while the world loses its way. For more information, please visit CabaretMusical.com
BUY TICKETS
DIRTY DANCING @ PLAYHOUSE
Apr, 3, 2018 - Apr, 8, 2018
DIRTY DANCING - THE CLASSIC STORY ON STAGE is an unprecedented live experience, exploding with heart-pounding music, passionate romance and sensational dancing. Seen by millions across the globe, this worldwide smash hit features the hit songs "Hungry Eyes," "Hey Baby," "Do You Love Me?" and the heart-stopping "(I've Had) The Time Of My Life." London's Sunday Express says, "This crowd-pleasing stage adaptation hits the jackpot!" It's the summer of 1963, and 17-year-old Frances "Baby" Houseman is on vacation in New York's Catskill Mountains with her older sister and parents. Baby discovers her own entertainment when she stumbles upon the staff quarters where an all-night dance party is in full swing. Mesmerized by the raunchy dance moves and the pounding rhythms, Baby can't wait to be part of the scene, especially when she catches sight of Johnny Castle the resort dance instructor. Baby's life is about to change forever as she is thrown in at the deep end as Johnny's leading lady both on-stage and off with breathtaking consequences. Don't miss your chance to see this record-breaking and adventurous theatre sensation. You'll have the time of your life!
BUY TICKETS
MOTOWN @ PLAYHOUSE
May, 1, 2018 - May, 6, 2018
"MORE THAN A BROADWAY SHOW. A CELEBRATION OF MUSIC THAT TRANSFORMED AMERICA!" - CBS Sunday Morning It began as one man's story... became everyone's music... and is now Broadway's musical. MOTOWN THE MUSICAL is the true American dream story of Motown founder Berry Gordy's journey from featherweight boxer to the heavyweight music mogul who launched the careers of Diana Ross, Michael Jackson, Smokey Robinson and many more. Motown shattered barriers, shaped our lives and made us all move to the same beat. Featuring classic songs such as "My Girl" and "Ain't No Mountain High Enough," experience the story behind the music in the record-breaking smash hit MOTOWN THE MUSICAL!
BUY TICKETS
DANCE TO THE MOVIES @ PLAYHOUSE
May, 18, 2018 - May, 20, 2018
From the producers of Ballroom with a Twist, DANCE TO THE MOVIES celebrates and reinvents some of Hollywood's best musical moments on the silver screen. Dancing With The Stars celebrity pros and So You Think You Can Dance top finalists combined with singing stars from American Idol and The Voice, Seven of TV and stage's top choreographers bring to life the classic movie dances of yesterday with a fresh new vision. The show features iconic movie musicals such as West Side Story, Grease, Chicago, Hairspray and Moulin Rouge, as well as stunning new dances to scores from The Godfather, Titanic, The Matrix and Les Misérables...plus a special appearance by Academy Award nominee Lesley Ann Warren! This is a perfect evening of cinema magic - LIVE on stage.
BUY TICKETS