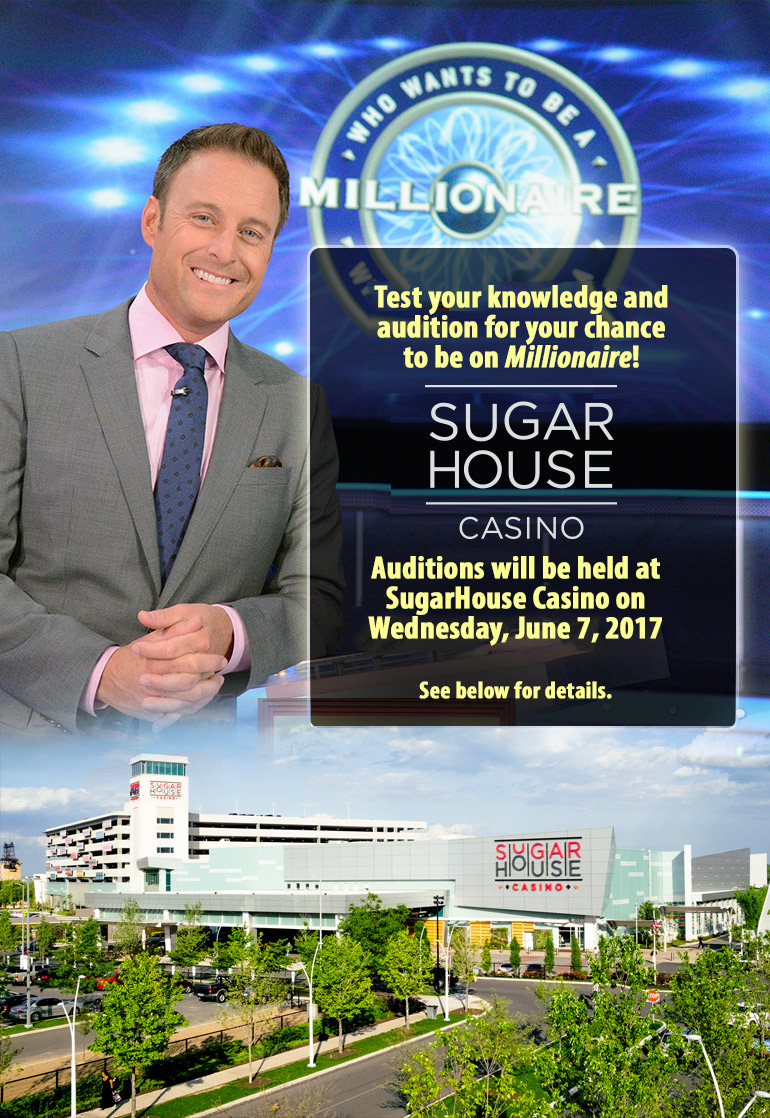 Do you think you have what it takes to become the next
Millionaire
? If so, then come to SugarHouse Casino on Wednesday, June 7, 2017 to test your knowledge and audition for your chance to be on the show!
PHILADELPHIA AUDITIONS
WEDNESDAY, JUNE 7, 2017
SugarHouse Casino
Visit Online
|
PARKING AND DIRECTIONS
101 North Delaware Ave
Philadelphia, PA 19125

Open Auditions
7AM TO 10AM
5PM TO 7PM
The Line will form outside the Event Center.
NO ONE WILL BE ADMITTED IN LINE BEFORE 6:00 A.M.
Testing occurs approximately every 30 minutes. People will NOT be allowed to audition if they arrive after the 10:00 a.m. or 7:00 p.m. sessions. Audition space is limited. There are no sign-ups for our road auditions, and admission to the audition session(s) is granted on a first-come, first-served basis.
WHO CAN AUDITION
You must be 18 years of age or older.
You must bring a picture ID and proof of age to your audition.All guests under the age of 21 must enter through the North Entrance
(near the Parking Garage) and take the elevators to the 2nd floor to gain access to the event. Under no circumstances are guests under the age of 21 permitted on the casino floor.
You must be a legal resident of the 50 United States or District of Columbia, and meet all eligibility requirements. For complete rules, go to
Official Rules
.
Please fill out and bring the completed
Audition Application
with you to your audition.