PHILADELPHIA (WPVI) --
It's time to step up your fight against mosquitoes to prevent being exposed to the West Nile Virus.
With all the rain we had during July, mosquito populations are growing, and so are the number of mosquitoes carrying West Nile.
Philadelphia's Health Department is stepping up its fight, with spraying scheduled in Chestnut Hill at dusk, Wednesday, August 2nd (weather permitting).
In recent weeks, dozens of mosquitoes trapped in our area have tested positive.
In Philadelphia, there were 10 positive results reported Tuesday, and 8 Monday, as well as last Thursday.
Mosquitoes trapped in all of the surrounding counties have also tested positives.
So far, there haven't been any human cases.
The tiger mosquito is the prime carrier for West Nile.
They bite day and night so insect repellent is a must anytime you're outdoors.
Another tip - keep a fan nearby.
Mosquitoes don't bite in wind over 10 miles an hour.
"If you're going to be out on your porch, if you have a fan, like an overhead fan or a fan that you can run, that can really significantly cut down on the mosquito activity," says Dr. Dan Allan, Cleveland Clinic family doctor.
Screens on every window can also help.
And get rid of standing water - tiger mosquitoes only need an ounce of water to breed.
The spraying in Chestnut Hill will be in on streets surrounding Pastorius Park from Chestnut Hill Avenue to Springfield Avenue and Germantown Avenue to Seminole and St. Martins Avenues.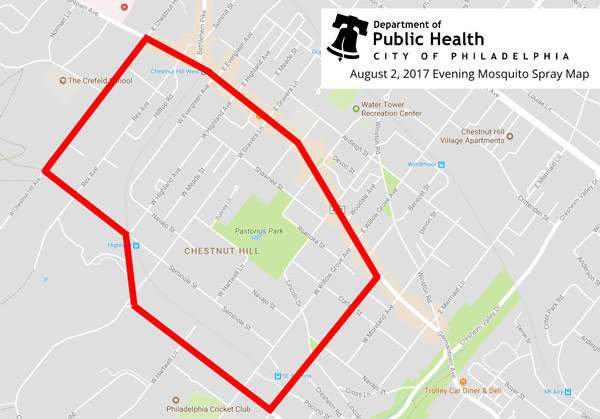 Spraying will be done by a truck-mounted machine, using Altosid liquid.
It stops mosquitoes from becoming breeding, biting adults.
The spray will not affect fish, waterfowl, mammals, or beneficial predatory insects, however, officials urge residents to bring children and pets inside during the spraying.