James Foley grew up in New Hampshire and began his career as a teacher, working with disadvantaged youth. After the September 11 terror attacks in 2001, he shifted careers when he enrolled in a graduate journalism program at the Medill School of Journalism at Northwestern University in Evanston, Illinois. He graduated in 2008.
Like other young journalists working after the September 11 terror attacks, Foley was drawn to Iraq, Afghanistan and other areas of conflict. Foley had previously been taken captive in Libya. He was detained there in 2011 along with three other reporters and released six weeks later. Two weeks after his release he returned to Evanston and spoke to Medill students about his experience as a reporter in the middle of war.
"It's part of the problem with the conflicts. We're not close enough to it and if reporters, if we don't try and get really close to what these guys... we don't understand the world essentially."
Provided by the Medill School of Journalism
Friends described Foley as fair, curious and an all-around great guy. "Everybody, everywhere, takes a liking to Jim as soon as they meet him," journalist Clare Morgana Gillis wrote in a blog post about him in May 2013, six months after he disappeared in Syria.
"Men like him for his good humor and tendency to address everyone as 'bro' or 'homie' or 'dude' after the first handshake. Women like him for his broad smile, broad shoulders, and because, well, women just like him."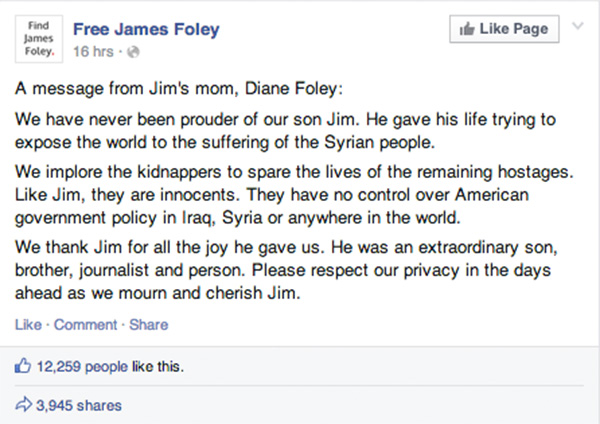 "We implore the kidnappers to spare the lives of the remaining hostages. Like Jim, they are innocents," Foley's mother wrote. "We thank Jim for all the joy he gave us. He was an extraordinary son, brother, journalist and person." People in Foley's hometown of Rochester, New Hampshire said the news of him being killed was heartbreaking. "You just feel sad..." "You just hope the family can grieve and deal with it", said Sully Harte, a neighbor.
Video released by the terror network ISIS shows Foley's apparent death by beheading. "Please honor James Foley and respect my family's privacy. Don't watch the video. Don't share it. That's not how life should be." A member of Foley's family tweeted.
The Associated Press contributed to this story.