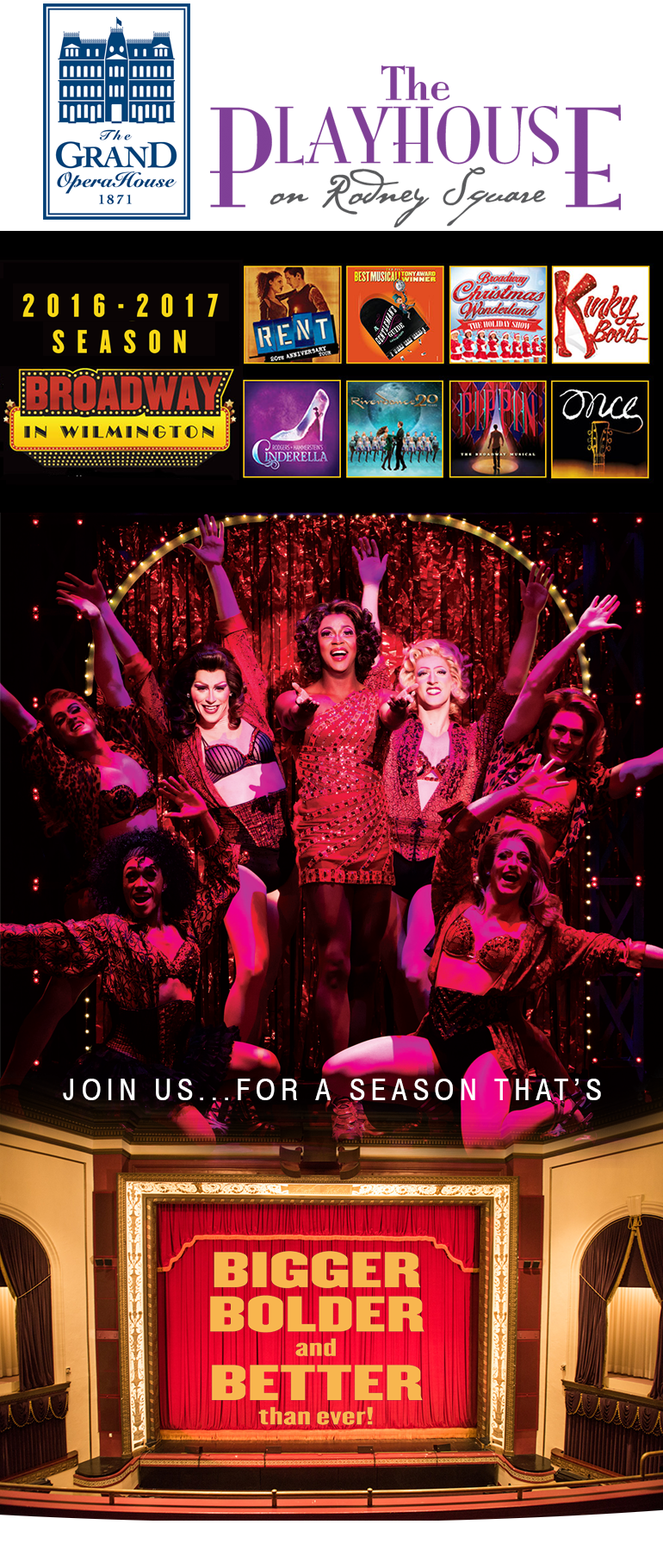 Rent
October 28-30, 2016
In 1996, an original rock musical by a little-known composer opened on Broadway... and forever changed the landscape of American theatre. Two decades later, Jonathan Larson's RENT continues to speak loudly and defiantly to audiences across generations and all over the world. And now, this Pulitzer Prize and Tony Award-winning masterpiece returns to the stage in a vibrant 20th anniversary touring production. A re-imagining of Puccini's La Bohme, RENT follows an unforgettable year in the lives of seven artists struggling to follow their dreams without selling out. With its inspiring message of joy and hope in the face of fear, this timeless celebration of friendship and creativity reminds us to measure our lives with the only thing that truly matters-love.
BUY TICKETS
A Gentleman's Guide to Love and Murder
November 15-20, 2016
Getting away with murder can be so much fun... and there's no better proof than the knock-'em-dead hit show that's earned unanimous raves and won the 2014 Tony Award for BEST MUSICAL-A GENTLEMAN'S GUIDE TO LOVE & MURDER!
Coming direct from New York, where a most gentlemanly NPR critic said he'd "NEVER LAUGHED SO HARD AT A BROADWAY MUSICAL," GENTLEMAN'S GUIDE tells the uproarious story of Monty Navarro, a distant heir to a family fortune who sets out to jump the line of succession by-you guessed it-eliminating the eight pesky relatives (all played by one fearless man) who stand in his way. All the while, Monty has to juggle his mistress (she's after more than just love), his fiancée (she's his cousin but who's keeping track?), and the constant threat of landing behind bars! Of course, it will all be worth it if he can slay his way to his inheritance... and be done in time for tea.
BUY TICKETS
Broadway Christmas Wonderland
November 25-27, 2016
BROADWAY CHRISTMAS WONDERLAND is one of the most delightful and enchanting Christmas shows ever. This most loved Christmas show features glittering costumes, a dazzling cast, and the highest kicking Chorus Girls this side of the North Pole. Start Christmas in style as Santa and his merry helpers take you on an unforgettable nostalgic Christmas journey. Songs include "White Christmas," "Winter Wonderland," "Have Yourself A Very Merry Christmas," "Chestnuts Roasting," "Jingle Bells," "Away in a Manger," "Silent Night," "Deck The Halls," "Rockin' Around The Christmas Tree," "O Holy Night" and many more. A sparkling holiday show the whole family will enjoy!
BUY TICKETS
Kinky Boots
December 13-18, 2016
KINKY BOOTS is Broadway's huge-hearted, high-heeled hit! With songs by Grammy and Tony winning pop icon Cyndi Lauper, this joyous musical celebration is about the friendships we discover, and the belief that you can change the world when you change your mind. Inspired by true events, KINKY BOOTS takes you from a gentlemen's shoe factory in Northampton to the glamorous catwalks of Milan.
Charlie Price is struggling to live up to his father's expectations and continue the family business of Price & Son. With the factory's future hanging in the balance, help arrives in the unlikely but spectacular form of Lola, a fabulous performer in need of some sturdy new stilettos.
With direction and choreography by two-time Tony Award-winner Jerry Mitchell (Legally Blonde, Hairspray) and a book by Broadway legend and four-time Tony Award-winner Harvey Fierstein (La Cage Aux Folles), KINKY BOOTS is the winner of six Tony Awards including Best Musical, Best Score and Best Choreography.
Take a step in the right direction and discover that sometimes the best way to fit in is to stand out.
BUY TICKETS
Cinderella
February 7-12, 2017
Rodgers + Hammerstein's CINDERELLA is the Tony Award- winning Broadway musical from the creators of The Sound of Music and South Pacific that's delighting audiences with its contemporary take on the classic tale. This lush production features an incredible orchestra, jaw-dropping transformations and all the moments you love-the pumpkin, the glass slipper, the masked ball and more-plus some surprising new twists! Be transported back to your childhood as you rediscover some of Rodgers + Hammerstein's most beloved songs, including "In My Own Little Corner," "Impossible/It's Possible" and "Ten Minutes Ago," in this hilarious and romantic Broadway experience for anyone who's ever had a wish, a dream... or a really great pair of shoes.
BUY TICKETS
Riverdance
February 21-26, 2017
The international Irish dance phenomenon-and one of the highest grossing shows in Playhouse history- is back by popular demand in Riverdance - The 20th Anniversary World Tour. Drawing on Irish traditions, the combined talents of the performers propel Irish dancing and music into the present day, capturing the imagination of audiences across all ages and cultures in an innovative and exciting blend of dance, music and song. Of all the performances to emerge from Ireland-in rock, music, theatre and film-nothing has carried the energy, the sensuality and the spectacle of Riverdance.
Riverdance - The 20th Anniversary World Tour is composed by Bill Whelan, produced by Moya Doherty and directed by John McColgan, and comes directly to North America from a sold-out run across Europe and Asia.
BUY TICKETS
Pippin
March 7-12, 2017
PIPPIN is a high-flying, death-defying hit Broadway musical! Full of extraordinary acrobatics, wondrous magical feats and soaring songs from the composer of Wicked, PIPPIN will lift you up and leave you smiling. This unforgettable new production is the winner of four 2013 Tony Awards including Best Musical Revival. Hailed as "an eye-popping, jaw-dropping extravaganza" (NY1), it's unlike anything you have ever seen! Come experience PIPPIN, one young man's journey to be extraordinary.
Following its acclaimed run at Boston's American Repertory Theater, this captivating new production comes straight from Broadway, directed by Tony winner Diane Paulus (Hair and The Gershwin's Porgy & Bess). It features sizzling choreography in the style of Bob Fosse and breathtaking acrobatics by Les 7 Doigts de la Main, the creative force behind the nationwide sensation Traces. PIPPIN is noted for many Broadway standards including "Corner of the Sky," "Magic To Do," "Glory," "No Time at All," "Morning Glow," and "Love Song."
Join us... for a magical, unforgettable new PIPPIN.
BUY TICKETS
Once
March 31-April 2, 2017
Winner of eight 2012 Tony Awards including BEST MUSICAL, ONCE is a truly original Broadway experience. Featuring an impressive ensemble of actor/musicians who play their own instruments onstage, ONCE tells the enchanting tale of a Dublin street musician who's about to give up on his dream when a beautiful young woman takes a sudden interest in his haunting love songs. As the chemistry between them grows, his music soars to powerful new heights... but their unlikely connection turns out to be deeper and more complex than your everyday romance. Emotionally captivating and theatrically breathtaking, ONCE draws you in from the very first note and never lets go. It's an unforgettable story about going for your dreams... not living in fear... and the power of music to connect all of us.
BUY TICKETS
Box Office Hours:
Regular Hours: Monday - Friday, 10:00 am to 4:00 pm
Summer Hours/June-August: Monday - Friday, 10:00 am to 2:00 pm
BUY TICKETS
Contact: 302.888.0200