HAMMONTON, N.J. (WPVI) --
Spirit Airlines just came in last in travel rankings from the American Customer Satisfaction Index.
The airline even has its own "Hate" campaign urging its own customers to "unleash your hate" by submitting complaints online in exchange for frequent flyer miles.
A New Jersey woman has a lot of Spirit Airlines hate she's willing to trade in after her vacation plans turned into a nightmare.
"I thank God every day I'm here," said Jennifer Pustizzi.
On August 5th, 12 hours before Pustizzi was scheduled to take off on a family vacation, her car crashed under a tractor trailer.
Pustizzi was airlifted to the trauma center at Cooper University Hospital.
"Plastic surgeons, trauma surgeons, and orthopedic surgeons trying to figure out the extent of my injuries," said Pustizzi.
The Pustizzi family of four obviously did not make their flight that departed the morning after the accident.
The cost of their round-trip tickets from Atlantic City to Orlando on Spirit Airlines was $1,578.72.
Pustizzi says she asked Spirit Airlines for a credit to use the tickets at a later date.
"She said no - I did not follow the directions and basically it was just lost money," said Pustizzi.
An email from Spirit Airlines reiterates what Pustizzi says she was told by phone.
It reads in part, "The flights cannot be reinstated and the airfare is non-refundable...You may cancel up to 24 hours in advance and receive a reservation credit."
Pustizzi says the representative on the phone told her she would know next time that she must follow their rules.
"And I stopped and I said, 'I don't think you're listening to what I'm telling you - if God forbid, this were ever to happen again, I still would not be able to call you to cancel,'" said Pustizzi.
Pustizzi contacted the Action News TroubleShooters for help but Spirit Airlines wouldn't budge.
However, they gave us another reason.
They said Pustizzi "chose not to purchase travel insurance...had she purchased this insurance she would have received a full refund."
Pustizzi says she didn't buy Spirit Airline's insurance because she thought a policy she bought through her travel agent would cover the flights.
"I said, 'It's my fault.' I should have dotted my I's, crossed my T's, and made sure these flights were on there and I didn't," said Pustizzi.
The moral of the story? Do consider travel insurance.
Through Spirit Airlines, it would have cost Pustizzi $28 per round-trip ticket and at least this airline is clearly unwilling to bend for even extraordinary circumstances.
I'm curious if you think Spirit Airlines should let Pustizzi use her tickets.
Click here, to head over to my Facebook page and let me know
.
You can read Spirit Airline's full statement below:
At Spirit, we work very hard to offer the absolute lowest fares for our customers. To do this we back out many of the cost factors that other airline bake into their fares that most air travelers never use. One of the very expensive cost factors other airlines build in, is the ability to make changes and exceptions. Depending on the airline this could cost anywhere between $75 - $150 and is hidden in the cost of an all-inclusive fare, even though the vast majority of customers never need these exceptions. Spirit believes customers should not be charged for this type of service, unless the customer specifically want them. It is for this reason, all Spirit tickets are non-refundable. However, we do offer options to protect their travel investment.

Because we realize that many people choose to fly Spirit because of our extremely low fares, we try to be as transparent as possible as to what comes with those fares, and what does not. The vast majority of our customers know and understand this. But for first time (and some repeat) customers we still make it very clear all our tickets are non-refundable before they can book their tickets.




Now, we absolutely understand that unexpected events take place all the time. That is why we offer two different options for our customers - specifically for unexpected events.

1) The first is Flight Flex. This optional service is for customers who feel their plans are not solid, and they may need to cancel and rebook their flight. This option costs $35 - $45 depending on their itinerary. The customer has the ability to purchase this option or say "no thanks."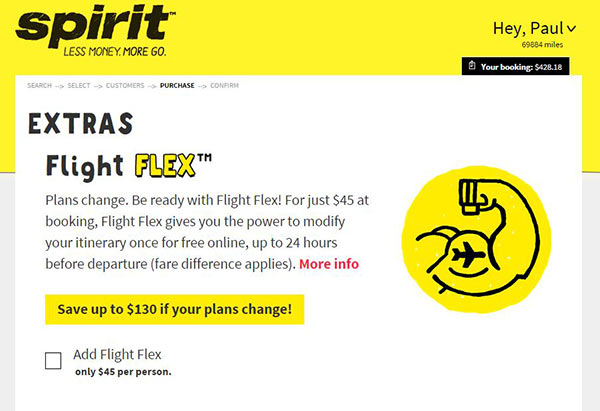 2) Travel insurance. This optional service is for people who have unexpected events happen such as medical issues, severe weather, or other covered events that you can't anticipate. This option costs $14 per ticket one-way. The example provided says $16 dollars because the trip involved an international destination. But every Spirit customer who books on Spirit.com is given the opportunity to purchase travel insurance, and must either agree to purchase the insurance or specifically choose to decline this option.)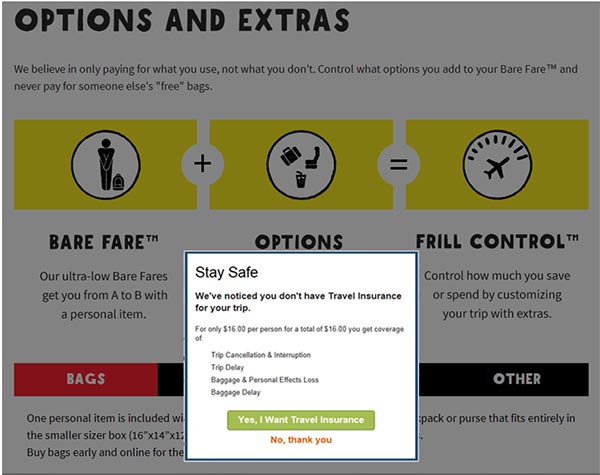 During the booking process we make it clear that the customer has these options available to them. Because our fares are very low, and many customers are risk adverse, they choose to purchase one or both of these optional items to give them peace of mind if the unexpected happens. Conversely, other customers are more focused on keeping their airfare as low as possible and are willing to take the risk. The option is theirs.

Ms. Pustizzi's flight was scheduled for August 6, 2015. She purchased seats and we held them for her and three other passengers (I'm assuming it was her family). The day before her flight she was in a car accident that left her in a condition that would not allow her to travel. We received no call from her family or friends that neither she or her family would be traveling. The flight left with her four seats empty, and she and her family were listed as no shows. We had no idea why she and the others did not board the flight.

According to your email, you state that Ms. Pustizzi was released from the hospital four days later (August 10). We did not hear from her until September 19 (40 days after she was released from the hospital). She requested a refund. Our Spirit representative explained to her that she purchased a non-refundable ticket, chose not to purchase travel insurance, and the long length of time between her missed flight and any contact with Spirit, made it difficult to provide her a refund. She asked for us to make a special exception for her that we wouldn't make for any other customer who decided not to protect their travel investment. We told her that wouldn't be fair to the customers who did purchase travel insurance. We also sent her a letter explaining she would not be receiving a refund.

Ms. Pustizzi purchased her tickets on Spirit.com and was given the opportunity to protect her investment. She specifically chose not to purchase travel insurance. Accidents like hers, that require a hospital stay, are covered by travel insurance. Had she purchased this insurance she would have received a full refund.

While your request for Spirit to make an exception and go against our policies might result in a positive story about Spirit, it would be unfair to our customers who do purchase travel insurance.

Paul Berry
Spirit Airlines Spokesman