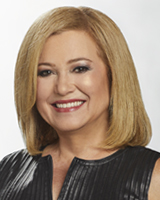 MONICA MALPASS, co-anchor of Action News at 5pm, joined WPVI-TV/Channel 6 in January of 1988. She is also an anchor of the award-winning political roundtable program Inside Story, hosts political debates and anchors many public service segments for 6abc. She has 55,000 followers on her professional Facebook page and 11,000 Twitter followers & counting.

Prior to that she worked as an anchor/reporter at WXII-TV in Winston-Salem, North Carolina; and as an anchor/reporter at WCHL-AM in Chapel Hill, North Carolina.

Monica received a Master of Arts degree in Political Science from Villanova University in 1999. She received a Bachelor of Arts Degree in Journalism from the University of North Carolina at Chapel Hill. She was a Rotary Scholar to the University of Puerto Rico, and has two honorary Doctorates of Humane Letters from Peirce College and Neumann College. Monica graduated from the Brookings Institute's "Inside Washington" program. She was also a member of the World Affairs Council.

Monica has had exclusive interviews with President Barack Obama, President Gerald Ford, Vice President Joseph Biden, Vice President George H. W. Bush, Secretary Hillary Clinton, Secretary Colin Powell, Secretary Tom Ridge, Oprah Winfrey, every U.S. Senator/Congressman/Governor/State Senator and Representative from Pennsylvania/ New Jersey/Delaware for 30 years, Eric Trump, Donald Trump, Jr., Activist Jesse Jackson, Actors Al Pacino, Diane Keaton, Jessica Alba, activist Gloria Steinem, ABC Anchors David Muir, George Stephanopolous, Diane Sawyer, Barbara Walters, Robin Roberts, George Will & Cokie Roberts, TV host Rachel Ray, legendary UPI White House Correspondent Helen Thomas and more.

Monica covered the U.S. visit of Pope Francis in 2015 in Washington, D.C. & Philadelphia; the Inaugurations of Presidents George W. Bush and Bill Clinton; the Presidential campaigns of Secretary Hillary Clinton, Senator Mitt Romney, and Senator John McCain; the plane crash of John Kennedy, Jr., the funeral of Princess Diana in London, and the Eagles Super Bowl game in 2005. She emceed the Pennsylvania Conference for Women numerous times including this year featuring First Lady Michelle Obama and TV producer Shonda Rhimes; she emceed the Marian Anderson Awards honoring Entertainer Patti LaBelle and others.

Her awards include: 2017-Honorary Doctorate from Peirce College; 2006 - Inducted into the Broadcast Pioneers Hall of Fame; 2003 - Pennsylvania Association of Broadcasters, 1st place; 2003 - Society of Professional Journalists, 1st place; 2000 - Society of Professional Journalists Two 1st place Awards; 2000 - Pennsylvania Association of Broadcasters Judge's Merit Award; 1999 - Pennsylvania Association of Broadcasters Judge's Merit Award; 1999-Best Female Newscaster-Main Line Today Magazine; 1998 - "Broadcaster of the Year" by Women in Communications; 1998-Pennsylvania Association of Broadcasters 1st place for "Spot News;" 1996-Pennsylvania Honor Roll of Women.

Monica served on two Boards of Directors at Children's Hospital of Philadelphia and the Children's Seashore House, and was a member of the Union League of Philadelphia. She also volunteers with numerous of charities.

She is the mother of three sons: Jake, Hunter and Zeke.

---