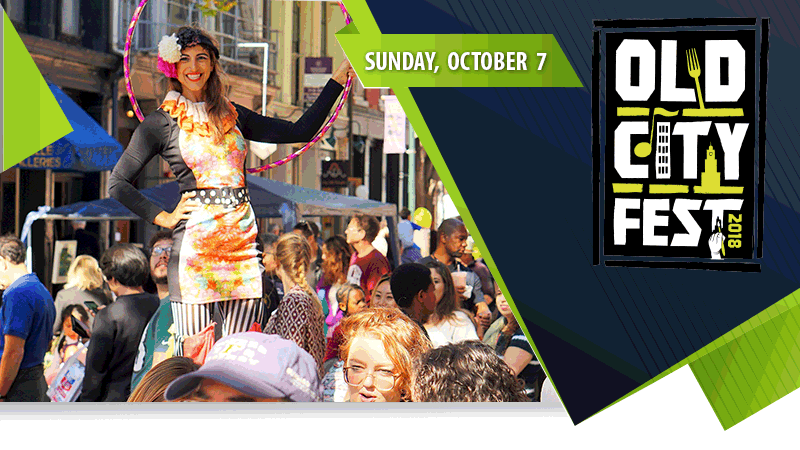 OLD CITY DISTRICT CELEBRATES ART AND DESIGN, FOOD AND FASHION, CREATIVITY AND CULTURE AT 5TH ANNUAL OLD CITY FEST ON SUNDAY, OCTOBER 7, 2018
Old City District presents the fifth annual
Old City Fest
on Sunday, October 7, 2018, from 11:00am to 6:00pm, along N. 3rd Street (from Market to Race) and Arch Street (from 2nd to 4th). Activities will include a festival stage with live music, runway fashion shows, a family fun zone, pop-up street performances and a wide array of food, beverages, art, craft and retail shopping, with 100+ Old City vendors participating. Admission is FREE, with food and drink pay-as-you-go.
Highlights include:
FOOD AND DRINK
The lineup of Old City restaurants showcases the wide variety of styles and flavors while highlighting some of the best food and drinks.
INDEPENDENTS ROW
Philadelphia Independents is sponsoring Independents Row, a special designated area featuring local makers including candle makers, ceramicists and jewelers. Meet the makers and peruse their handmade goods along 3rd Street in front of 35 N. 3rd Street.
MUSIC AND PERFORMANCE
Old City Fest will feature live performances on the main stage located at 4th and Arch Streets throughout the day. Plus, look out for other pop-up performances throughout the festival footprint!
FAMILY FUN ZONE
The family fun zone will feature performances from the Give & Take Jugglers, Philadelphia Dance Academy, Music Monkey Jungle and many more. AMERICAN HERITAGE Chocolate, the historic division of Mars Wrigley Confectionary, will present the history and preparation of colonial chocolate at the Betsy Ross House. Stop by to experience chocolate the same way that 18th century chocolate maker, Mary Crathorne, did! Check in as special guests will be visiting throughout the day. You might recognize some of America's most famous neighbors!
GALLERIES AND ARTISTS
Old City District is the city's hub for artists, makers, galleries and creative industries. Be sure to experience all of the arts and culture the neighborhood has to offer.
SHOPPING
Around every corner of Old City find the city's latest fashions, gifts and home decor. Don't leave empty handed with top brands, up-and-coming designers and more