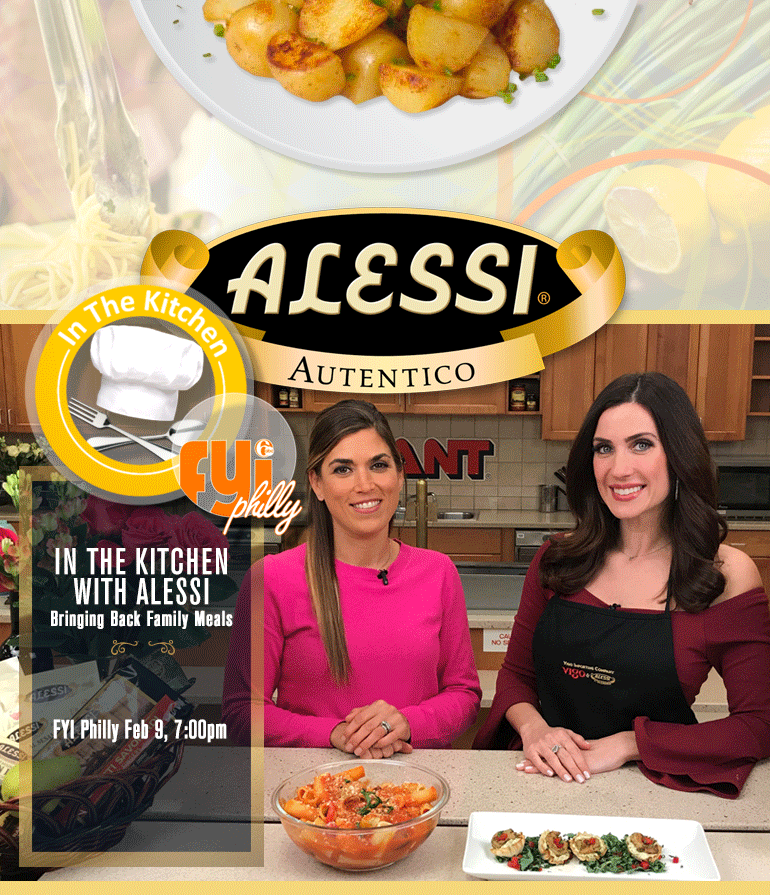 In the Kitchen with Alessi

Bringing Back Family Meals
FYI Philly February 9, 7:00pm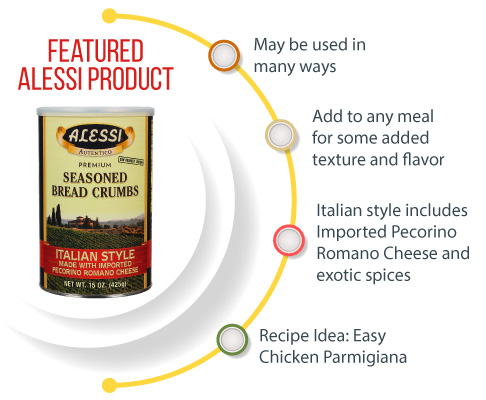 Hungry for a little cooking inspiration? Tune in to FYI Philly for In the Kitchen with Alessi. Join Gina Gannon and Courtney Schoepe, In-Store Nutritionist at Giant Food Stores, to learn how you can prepare tasty and healthy meals in 30 minutes or less. Gather your family around the table and start creating your authentic moments!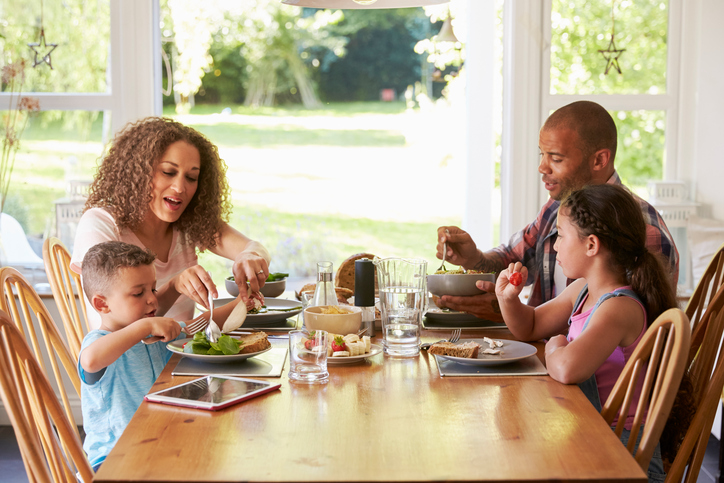 Family meals are a key component of healthy living, but our on-the-go lifestyles often mean eating on-the-go, too. A regular fast food diet can lead to obesity, diabetes, high blood pressure and other serious health issues. One of the best ways to eat healthier and engage with family members - especially teens - is by eating together. If schedules are just too hectic for regular family meals, commit to at least one day a week, and build from there. Involve other family members in the effort - they can help pick the recipes, set the table and even help prepare the meals. Buon appetito!
Dine in on Date Night!
Mediterranean Shrimp Penne
Makes (8) 1 cup servings
Prep Time: 20 minutes
Cook Time: 25 minutes
Ingredients
Alessi Penne Pasta, 1 lb.
1 tablespoon olive oil
2 garlic cloves, minced
1 medium sweet onion, peeled and diced
Nature's Promise Shrimp, 1 lb. packaged, peeled
1 medium zucchini, diced
1 can small artichoke hearts, rinsed and drained
cup chef cut roasted red peppers, drained
cup Greek (pitted) or black olives
32oz jar Alessi Smooth Marinara
Parmesan cheese
Fresh basil
Directions
1) In large dutch oven, bring 6 cups water to boil and cook pasta al dente according to package instructions. When pasta done, drain water, but do not rinse.
2) While pasta is cooking, heat a large sauté pan on med-high heat. Add olive oil with onion and garlic. Sauté until translucent, about 4 minutes. Add shrimp, sauté until pink, about 4 minutes. Add remaining veggies and cook for about 5 minutes.
3) Add marinara sauce and bring to a simmer.
4) Toss cooked pasta with sauce, shrimp and veggies.
5) Top with fresh basil and parmesan cheese before serving.
Nutrition information per serving: 400 calories, 6g fat, 0g saturated fat,
85mg cholesterol, 900mg sodium, 62g carbohydrate, 6g fiber, 22g protein
Pesto Shrimp in Phyllo
Makes (15) bite-size servings
Prep Time: 15 minutes
Cook Time: 15 minutes
Ingredients
1 tablespoon olive oil
1 garlic clove, minced
15 Nature's Promise medium shrimp, peeled and deveined
Black pepper
cup Alessi Pesto
1 cup part-skim ricotta cheese
1 package mini phyllo cups
Fresh basil
cup diced roasted red peppers
Directions
1) Heat a large sauté pan on med-high heat. Add garlic and olive oil. Heat for 2 minutes, add shrimp and black pepper and sauté until shrimp is cooked through, about 3 minutes. Add cup pesto and toss to coat. Remove from heat.
2) In mixing bowl, mix ricotta and remaining cup pesto.
3) Prep phyllo cups according to package directions.
4) Add 1 tablespoon ricotta mixture to phyllo cups, top with 1 shrimp and garnish with fresh basil and diced roasted red peppers.
Enjoy immediately!
Nutrition information per serving: 90 calories, 7g fat, 2g saturated fat,
15mg cholesterol, 150mg sodium, 4g carbohydrate, 0g fiber, 4g protein