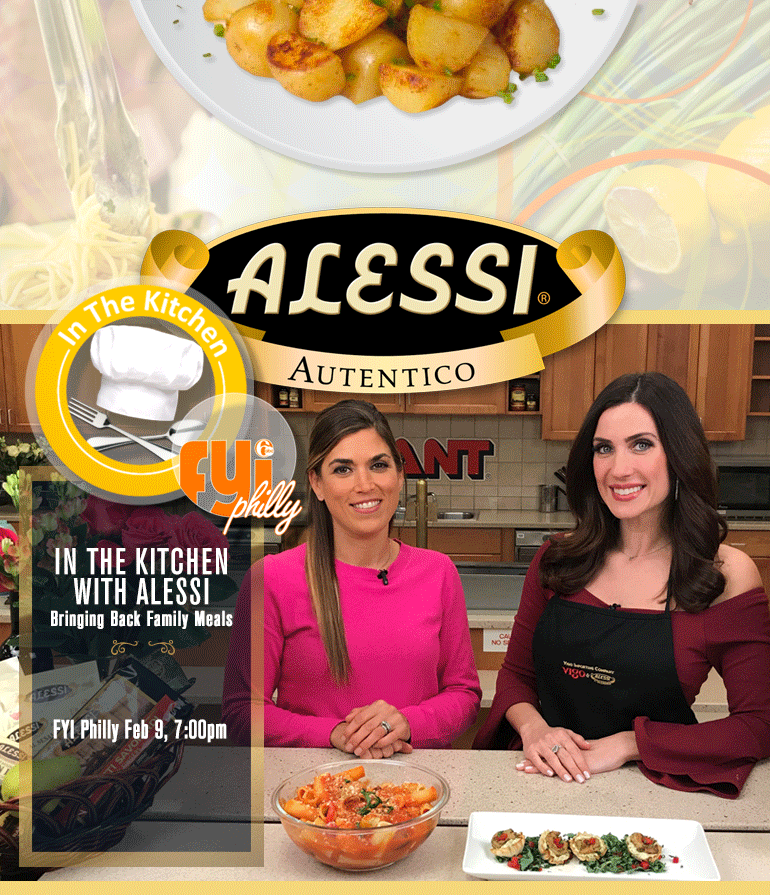 In the Kitchen with Alessi

Bringing Back Family Meals
FYI Philly November 10, 7:30pm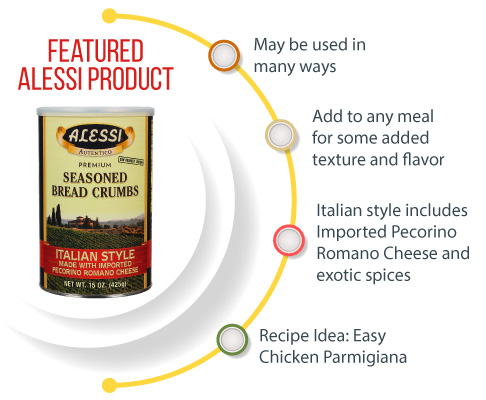 Hungry for a little cooking inspiration? Tune in to FYI Philly for In the Kitchen with Alessi. Join Gina Gannon and Courtney Schoepe, In-Store Nutritionist at Giant Food Stores, to learn how you can prepare tasty and healthy meals in 30 minutes or less. Gather your family around the table and start creating your authentic moments!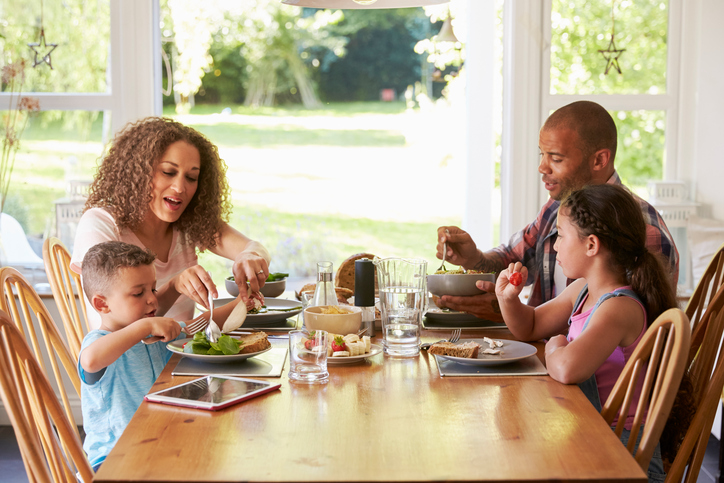 Family meals are a key component of healthy living, but our on-the-go lifestyles often mean eating on-the-go, too. A regular fast food diet can lead to obesity, diabetes, high blood pressure and other serious health issues. One of the best ways to eat healthier and engage with family members - especially teens - is by eating together. If schedules are just too hectic for regular family meals, commit to at least one day a week, and build from there. Involve other family members in the effort - they can help pick the recipes, set the table and even help prepare the meals. Buon appetito!
Dine in on Date Night!
Autumn Penne
Makes (8) 1 cup servings
Prep Time: 20 minutes
Cook Time: 45 minutes
Ingredients
Butternut squash, about 4 cups peeled and cubed
1 medium sweet onion, peeled and quartered
4 tablespoons olive oil
Salt & pepper
Alessi Penne Pasta, 1 lb.
2 garlic cloves, minced
Nature's Promise chicken tenderloins, 1 lb. package
10 oz. bag spinach
Parmesan cheese
Directions
1) Preheat oven to 375 degrees. Line sheet pan with parchment paper. Place butternut squash and onion on tray. Drizzle 1 tablespoon olive oil, sprinkle black pepper and salt onto veggies, and combine well. Roast in oven for about 40 minutes, turning occasionally.
2) In large dutch oven, bring 6 cups water to boil. Cook pasta al dente according to package instructions.
3) While pasta is cooking, heat a large sauté pan on med-high heat. Add garlic and 1 tablespoon oil. Once heated, add chicken tenders. Sprinkle with black pepper and cook for 4 minutes each side.
4) Once chicken is cooked through, add spinach and cook covered for 2-3 minutes or until spinach is wilted.
5) When pasta is done, drain water, but do not rinse. Toss pasta with veggies, chicken and 2 tablespoons olive oil.
6) Sprinkle with parmesan cheese before serving.
Nutrition information per serving
: 390 calories, 10g fat, 1.5g saturated fat,
45mg cholesterol, 95mg sodium, 54g carbohydrate, 4g fiber, 22g protein
Poached Pear & Pomegranate Salad
Makes (6) 1 cup servings
Prep Time: 10 minutes
Cook Time: 45 minutes
Ingredients
cup Alessi Raspberry Balsamic Vinegar
About 3 cups water (enough to cover pears in pan)
cup honey
Black pepper
3 pears, slightly firm - peeled, halved and cored, leave on stem
6 cups mixed leafy greens
1 cup pomegranate arils
cup feta cheese
4 Tbs. Alessi Pine Nuts
Directions
1) In a saucepan just large enough to hold pear halves on their sides, combine ingredients for poaching liquid - vinegar, water, honey and dash of black pepper. Bring to a boil, stirring until honey has dissolved. Arrange pears on their sides in a single layer in poaching liquid. Cover and simmer, turning occasionally, until tender, about 25 minutes. Using a slotted spoon, carefully transfer pears to a plate and let pears cool. Once cool, thinly slice pears lengthwise.
2) To make a balsamic reduction, bring poaching liquid back to a boil; cook until slightly syrupy, deep brown in color, and reduced to 3/4 cup, about 15 minutes. Liquid will continue to thicken as it cools.
3) Toss all salad ingredients together and drizzle with balsamic reduction.
If storing balsamic reduction, transfer to a covered container and refrigerate up to 3 days. Store pears and syrup separately.
Nutrition information per serving:
220 calories, 7g fat, 2g saturated fat,
10mg cholesterol, 150mg sodium, 40g carbohydrate, 6g fiber, 4g protein