MAHWAH, New Jersey --
Some towns in New Jersey are taking a visual stand in the wake of nationwide protests over police use of force. Common street markings are now going blue, thanks to one local woman.
Between the double yellow traffic lines, blue lines are popping up in towns across New Jersey. One blue line stretches at least the length of the police department building that sits behind it as a show of support for local officers.
Susan Larson leads the charge for the blue line in front of Mahwah's police station.
"We have a great police department here in Mahwah, they run really great programs for the kids during the summer - the Police Academy, the Junior Police Academy, so I have to tell you the truth, I've always appreciated their efforts," said Larson.
The trend caught on in places like Rochelle Park, Maywood, Glen Rock, and several other Bergen County towns that got City Council approval.
"People have to understand the role of a police officer, and the job of a police officer. We are out there to be that blue line," said Mahway Police Chief James Batelli.
Mahwah Mayor Bill Laforet went one step further, using his own money to purchase hundreds of political-looking signs that are actually a pro-police message.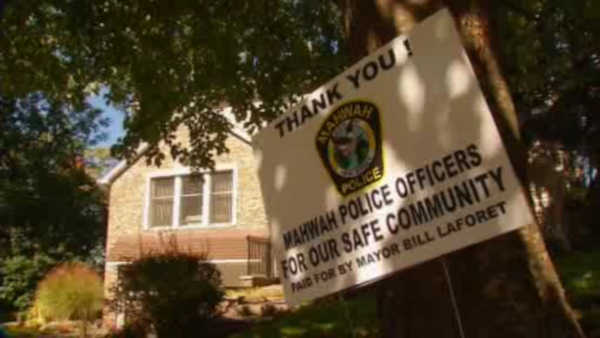 "Mahwah is considered one of the safest communities in the state of New Jersey, and it is for the work of this police department that we are here where we are," said Laforet.
Supporters like Larson say this is not a response to any national issue, it is a way to simply say thank you, or even begin more meaningful relations.
"I feel like it could start with the first step - I mean, people need to hear each other's sides, certainly," adds Larson.