WEST OAK LANE (WPVI) --
Within minutes of our story airing Tuesday afternoon of a Philadelphia boy's custom wheelchair stolen from outside his home, Action News received dozens of offers to help from our viewers and people who saw the story on Facebook and 6abc.com.
One anonymous donor made it happen and 10-year-old Robert Prout should be getting a new custom wheelchair by the end of the week.
"It's just amazing and I can't believe it right now," Robert's mother Amesha Prout said Wednesday.
Amesha is overwhelmed by the generosity of so many who offered to help replace her son's custom wheelchair.
"Never did I think I would be in the position to have to need help and then, at the same time, actually receiving the help that's needed so, yes, it's a beautiful thing," Amesha said.
On Tuesday, we reported someone stole Robert's wheelchair from right out in front of the family's home in the 7000 block of Forrest Avenue in West Oak Lane.
The 10-year-old suffers from cerebral palsy and can't get anywhere without it.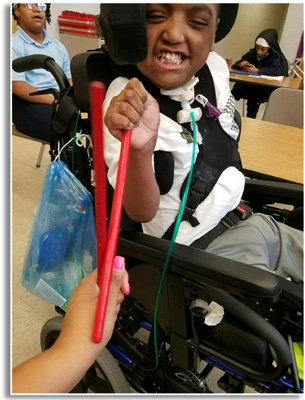 "I went into this whole thing talking about it in hopes that maybe I would get his chair back. Never in a million years did I think people would start reaching out to me and help me in the way that they are right now," Amesha said.
Offers to help poured into Action News.
On Wednesday morning, a young woman who wishes to remain anonymous called Mr. Wheelchair, a store in Holmesburg, and told technician Mike Sierra she wanted to make sure Robert got a new wheelchair at any cost.
"She don't care about the expense. She cares about the child. So she and I are going to build a nice wheelchair for the child and make him comfortable again," Sierra said.
The anonymous donor and Mike went to the Prout's home and Robert was fitted for the new chair. It will resemble one in the store that retails for about $5,000.
It won't be long before he's mobile again.
"I am past the fact that that the old chair was stolen. Now, it's overwhelming at how this city has reached out to help me help my son," Amesha said.
The wheelchair store expects Robert's new chair to arrive by Friday.
Police have been investigating. They believe that so-called scrapers may have taken wheelchair thinking it was set out as trash.
So many of you have offered to donate to the family, you can do so at this
GoFundMe page
.
----------
Send a breaking news alert
Report a correction or typo
Learn more about the 6abc apps