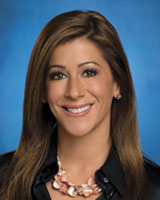 Wendy Saltzman joined 6abc Action News as the Investigative Reporter in December, 2012.

Wendy's work primarily focuses on political corruption, public waste, and hidden camera reports. Prior to coming to Philadelphia, Wendy was the Chief Investigative Reporter for CBS Atlanta News, where she helped launch that station's investigative team in 2005. In addition to her time in Georgia, Saltzman has worked as an Investigative Reporter in Texas, Michigan, and Florida. Her work has been profiled on national talk shows. She is a three-time Emmy Award Winner for Investigative Reporting.

While in Atlanta, Wendy won an Emmy for Investigative Reporting for a hidden camera report that exposed a high-tech identity crime ring. Three people were arrested and criminally prosecuted as a result of her report. Wendy is one of only three reporters in the United States to be nominated for the National Emmy for Investigative Reporting in 2009 for local television news. She has also been honored with 13 additional Emmy nominations, for a total of 15 personal Emmy nominations during her career.

Wendy moved to Atlanta from Orlando, where she worked for WKMG-TV. While in Florida, Saltzman gained state-wide recognition for a hidden camera investigation into public officials attending a taxpayer-funded junket in Las Vegas. Saltzman was named Best News Reporter by Orlando Magazine, and earned multiple awards for her investigative, consumer, and criminal justice reporting. Wendy's reports even helped change a law, eventually overhauling a public transportation agency in Florida.

Before becoming an Investigative Reporter, Saltzman worked for CBS News. She began her career working for The Evening News with Dan Rather, where she covered the trial of Oklahoma City bomber, Timothy McVeigh and the Jon Benet Ramsey investigation. Wendy studied pre-law at the University of Chicago. She was admitted to the undergraduate program at just 16 years old. In her free time, Saltzman enjoys running and playing sand volleyball. She is also passionate about international travel.

One of the personal accomplishments Wendy is most proud of is climbing to the highest peak of Mt. Kilimanjaro in Tanzania, measuring 19,341 feet tall.

If you have an investigative tip, please contact Wendy at Wendy.Saltzman@abc.com.
---