NEW YORK CITY --
Sixteen people were injured in a seven-alarm fire that burned through an apartment building in New York City.
The fire started just after 5:30 a.m. Tuesday in a furniture store on the first floor of the building on Commonwealth Avenue in the Bronx.
Flames spread through the four-story building and through the roof.
The injured include seven adults and nine children. All the injuries are considered non-life-threatening.
Twenty-two people have been left homeless, officials say.
On the frigid morning, firefighters were battling not only the flames, but the cold as well.
A heavy icing condition was reported on streets around the building.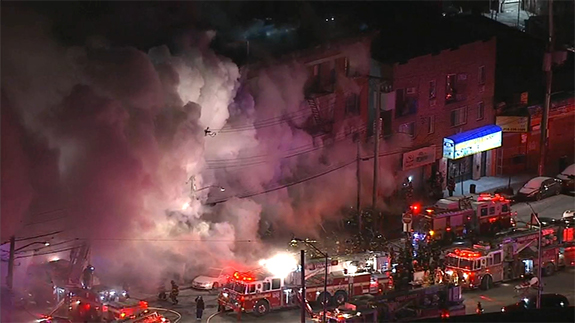 Firefighters broke windows to get people out of the building as the fire continued to burn.
One woman ran down the hall banging on doors to try and get her neighbors out.
Another resident escaped with her two children and dog. She was getting ready for work when she smelled smoke.
"I woke up my husband, my kids and said 'listen, there's a fire in the building,'" she said. "By the time we opened the door in the hallway, there was black smoke."
The cause of the fire was not immediately known.
----------
Send a breaking news alert
Report a correction or typo
Learn more about the 6abc apps