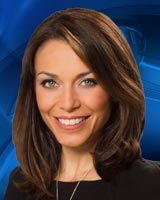 Erin O'Hearn joined the Action News team in January of 2006. Before arriving in Philadelphia, she worked for 6abc's sister station, WTVD, the ABC-owned station in Durham, North Carolina. There, she covered everything from breaking news to UNC pep rallies, to hurricanes ripping through the Tar Heel State.

Erin also has a strong background covering politics, as she began her broadcasting career at Capital News 9 in her hometown of Albany, New York. Before diving into news, Erin spent time producing episodes of an MTV documentary called True Life. While working for MTV, Erin spent most of her time in New York City, but also traveled all over the country, following teens and young adults as they grappled with issues like bi-polar disorder and drug addiction.

Erin graduated from Cornell University with a Bachelor of Science. She was a member of Pi Beta Phi Sorority and the Ivory Tower Honor Society. Erin serves on the board of the Vetri Foundation for Children as well as the St. John Vianney Scholars Board. Erin enjoys yoga, running and traveling, but most of all loves spending time with her husband and children.
---