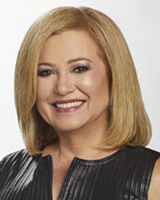 Monica Malpass, co-anchor of Action News at 5pm, joined WPVI-TV/Channel 6 in January of 1988. She is also an anchor of the award-winning political discussion program Inside Story, hosts political debates and anchors many public service segments for 6abc.

Prior to that she worked as an anchor and reporter at WXII-TV in Winston-Salem, North Carolina; as a reporter at WFMY-TV, in Greensboro, North Carolina; as an anchor and reporter at WCHL-AM in Chapel Hill, North Carolina; and as a reporter for "The Daily Tar Heel," in Chapel Hill, North Carolina.

Monica received a Master of Arts degree in Political Science from Villanova University in 1999. She received a Bachelor of Arts Degree in Journalism from the University of North Carolina at Chapel Hill in 1983, was a Rotary Scholar to the University of Puerto Rico in 1984, and has an honorary Doctorate of Humane Letters from Neumann College. Monica graduated from the Brookings Institution's "Inside Washington" program. She was also a member of the World Affairs Council.

Monica has had numerous national and international assignments including coverage of every election since 1988, the Presidential campaign Senator John McCain, the Inaugurations of Presidents George W. Bush and Bill Clinton, the plane crash of John Kennedy, the funeral of Princess Diana in London in 1997, and coverage of the Eagles' Super Bowl game in 2005. She also landed several exclusive interviews with Hillary Rodham Clinton, Vice Presidential candidate Joseph Lieberman, Governors Ed Rendell and Tom Ridge, Senators Arlen Specter and Rick Santorum, UPI White House Correspondent Helen Thomas, political analyst George Stephanopoulos, and numerous other state and national representatives.

Her awards include: 2006 - Inducted into the Broadcast Pioneers Hall of Fame 2003 - Pennsylvania Association of Broadcasters, 1st place, Children's Programs; 2003 - Society of Professional Journalists, 1st place Children's Series; 2000 - Society of Professional Journalists 1st place Awards for Best TV News Story and TV Arts & Culture Reporting, 2000 - Pennsylvania Association of Broadcasters Judge's Merit Award, 1999 - Pennsylvania Association of Broadcasters Judge's Merit Award, 1999-Best Female Newscaster-Main Line Today Magazine, 1998 - "Broadcaster of the Year" by Women In Communications, 1998-Pennsylvania Association of Broadcasters 1st place for "Spot News," 1996-Pennsylvania Honor Roll of Women.

Monica served on two boards of directors at Children's Hospital of Philadelphia and the Children's Seashore House, and was a member of the Union League of Philadelphia. She is also active with the William Penn Charter School and volunteers for dozens of charity events annually.

She is the mother of three sons, Jake, Hunter and Zeke.
---
Archive
7,000 businesswomen are coming to Philadelphia to hear from Academy Award winner Diane Keaton, GMA's Robin Roberts and more.
Laundry detergent packets that you just toss into the washing machine have risen in sales. But safety concerns for children have also increased with more than 20,000 calls to poison control centers since the packets went mainstream in 2012.