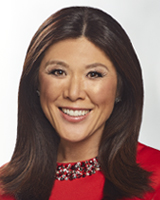 Nydia Han is the 6abc Consumer Reporter, and co-anchor of Action News Sunday mornings. Prior to joining Action News in October of 2002, Nydia produced consumer investigations and also anchored for KTRK-TV, the ABC station in Houston, Texas. Over the years, Nydia has helped viewers save money, avoid scams and understand new technology.

Prior to working in Houston, Nydia was the Investigative/ Criminal reporter for KOCO-TV in Oklahoma City.

One of the most versatile broadcasters in the industry, Nydia wears many hats for Action News. Not only does she produce consumer reports and weekly in-depth special reports and investigations, she has also traveled to cover national stories for Action News, such as the Columbia shuttle disaster and Hurricane Katrina.

Nydia is very active in the community. She is Vice President of Broadcast for the Philadelphia chapter of the Asian American Journalists Association, and volunteers for a number of other organizations.

Nydia received a Bachelor of Science in Journalism with a focus on International Studies from the Medill School of Journalism at Northwestern University. Fluent in Korean, Nydia also graduated from a program at Yonsei University in Seoul, Korea.
---