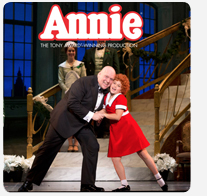 Leapin' Lizards! The world's best-loved musical returns in time-honored form. Directed by original lyricist and director Martin Charnin and choreographed by Liza Gennaro, this production of ANNIE will be a brand new incarnation of the iconic original.
Featuring book and score by Tony Award-winners Thomas Meehan, Charles Strouse and Martin Charnin, ANNIE includes such unforgettable songs as "It's the Hard Knock Life," "Easy Street," "I Don't Need Anything But You," plus the eternal anthem of optimism, "Tomorrow." Buy Tickets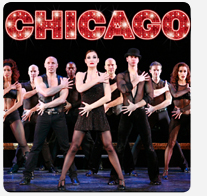 Chicago-The Musical - Jan. 12-17, 2016
A true New York City institution, CHICAGO has everything that makes Broadway great: a universal tale of fame, fortune and all that jazz; one show-stopping-song after another; and the most astonishing dancing you've ever seen.
No wonder CHICAGO has been honored with 6 Tony Awards, 2 Olivier Awards, a Grammy and thousands of standing ovations.
It's also no surprise that CHICAGO has wowed audiences all around the world, from Mexico City to Moscow, from Sao Paulo to South Africa. Buy Tickets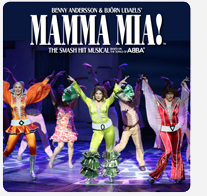 A mother. A daughter. 3 possible dads. And a trip down the aisle you'll never forget! The ultimate feel-good show! Writer Catherine Johnson's sunny, funny tale unfolds on a Greek island paradise. On the eve of her wedding, a daughter's quest to discover the identity of her father brings 3 men from her mother's past back to the island they last visited 20 years ago.
The story-telling magic of ABBA's timeless songs propels this enchanting tale of love, laughter and friendship, and every night everyone's having the time of their lives! With more productions playing internationally than any other musical, MAMMA MIA! is the World's No.1 Show! Buy Tickets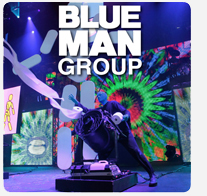 Blue Man Group - Mar. 17-20, 2016
BLUE MAN GROUP is best known for their wildly popular theatrical shows and concerts which combine comedy, music, and technology to produce a totally unique form of entertainment. Although it is impossible to describe, people of all ages agree that BLUE MAN GROUP is an intensely exciting and wildly outrageous show that leaves the entire audience in a blissful, euphoric state. With no spoken language, BLUE MAN GROUP is perfect for people of all ages, languages, and cultures. This unique experience is a form of entertainment like nothing else; guaranteed to be an outing you will never forget. Tickets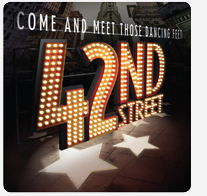 42nd Street - Apr. 19-24, 2016
The quintessential backstage musical comedy classic, 42nd STREET is the song and dance fable of Broadway with an American Dream story and includes some of the greatest songs ever written, such as "We're In The Money," "Lullaby of Broadway," "I Only Have Eyes For You" and of course "42nd Street."
Based on a novel by Bradford Ropes and Busby Berkeley's 1933 movie, 42nd STREET tells the story of a starry-eyed young dancer named Peggy Sawyer who leaves her Allentown home and comes to New York to audition for the new Broadway musical Pretty Lady. When the star breaks her ankle, Peggy takes over and becomes a star. Buy Tickets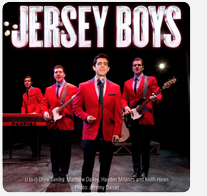 The Tony, Grammy and Olivier Award-winning Best Musical about Rock and Roll Hall of Famers The Four Seasons: Frankie Valli, Bob Gaudio, Tommy DeVito and Nick Massi. This is the true story of how four blue-collar kids became one of the greatest successes in pop music history. They wrote their own songs, invented their own sounds and sold 175
million records worldwide! JERSEY BOYS features hit songs "Big Girls Don't Cry," "Oh What a Night" and "Can't Take My Eyes Off You." Buy Tickets
Box Office Hours
Regular Hours: Monday - Friday, 10:00 am to 4:00 pm
Summer Hours/June-August: Monday - Friday, 10:00 am to 2:00 pm
Contact: 302.888.0200