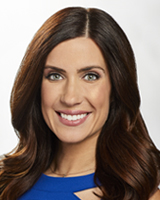 Gina Gannon joined the Action News team as a traffic reporter in December of 2016. Born and raised in Northeast Philadelphia, Gina is a proud Philly girl through and through.

Gina's career at 6abc has spanned from traffic reporting and animal-centric segments to Facebook Live discussions and in-person, live events for various fundraisers and charities. You can catch her every Friday during Action News at 4 p.m. and 5 p.m. providing traffic updates for the Delaware Valley. She also hosts "Weekend Extra," showcasing various local businesses.
Like so many people in the Philadelphia region, Gina grew up watching 6abc. This full-circle career opportunity allows her to represent the station she always admired as a young, aspiring TV personality.

Gina caught the TV bug early in life and started anchoring entertainment segments for her grade school's news program. From there, she knew it was the only path she wished to pursue. When the time came for Gina to apply to college, Temple University was the clear choice, due to the school's exceptional Communications Program. Gina received her bachelor's degree in Communications and proudly exudes her "Temple Made" mentality wherever she goes. After graduation, she worked as a local traffic reporter. It was then that she also began working as an in-demand, on-air national guest host for QVC.

When she isn't on-air or working the event circuit, you can find Gina hosting events near and dear to her heart. Gina is on the Board of Directors for Mums and Mutts, an animal advocacy non-profit. Being an avid animal lover, Gina was drawn to this specific organization comprised of Mummers who help provide funding, marketing, and social media awareness to help shelter animals find forever homes. With this sentiment in mind, you will undoubtedly hear Gina gushing over her Yorkshire Terrier fur-babies, Mia and Coco.

---