March 19, 2016 (WPVI) -- This weekend, on FYI Philly, It's our annual spring into shape fitness special! We check out some new workout spots, try a ridiculously fun class guaranteed to rock your routine and share a 6 week in-home exercise program developed just for FYI! Plus, we sample some new spots serving up healthy eats and shop for Made in Philly workout wear. We're springing into shape Saturday at 7pm and Sunday at midnight on FYI Philly! Below are details on this week's features:
Fitness for Whole Family
Philadelphia Freedom Valley YMCAhttps://philaymca.org/
https://www.facebook.com/PhiladelphiaFreedomValleyY
Haverford area YMCA
891 N. Eagle Road
Havertown, PA 19083
610.649.0700
Rocky Run YMCA
1299 West Baltimore Pike
Media, PA 19063
610.627.9622
New workout spots
Grace & Glory Yoga
2220 Frankford Avenue
Philadelphia, PA 19125
267-909-9483
http://www.graceandgloryyoga.com/
https://www.facebook.com/graceandgloryphilly/
CorePower Yoga
1616 Walnut St, Ste B01 (just below street level)
Philadelphia, PA 19103
(215) 515-2440
https://www.corepoweryoga.com/locations/pennsylvania/philadelphia/walnut-street
https://www.facebook.com/CorePowerYogaPhiladelphia/?fref=ts
Ripped PHL
1519 Walnut St, 3rd floor
Philadelphia, PA 19102
215-740-8800
http://rippedphl.com/services/in-home-personal-training/
https://www.facebook.com/pages/Philadelphia-Fitness-Authority/207554279372444
6 Week Home Workout Plan
Custom-created for FYI viewers by Cheryl Herzog
Surfside Fitness
2021 Dune Drive
Avalon NJ, 08202
(Corner of 21st & Dune)
(609) 967-9023
5900 Landis Avenue
Sea Isle City, NJ 08243
(Next to Maritas Ice Cream)
609-263-9023
http://www.trainwithcheryl.com/
We'll be posting a new workout online every week for 6 weeks.
Here is workout #1!
Here is workout #2!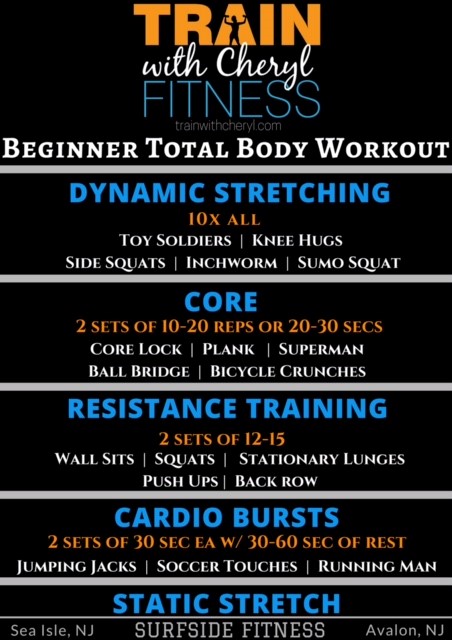 Making Fitness Fun!
Pound Fitness
Philly Dance Fitness
Rittenhouse location, 1624 South St.
Philadelphia, PA 19146
(215) 645-2717
Pound Fitness class on Wednesdays at 8 p.m. with Lehla
https://phillydancefitness.com/pound-fitness/
https://www.facebook.com/phillydancefitness
Healthy Eats
Herban Quality Eats
3601 Market St
Philadelphia, PA 19104
(267) 281-8920
http://herbanqualityeats.com/#1
https://www.facebook.com/herbanqualityeats
Smartplate
Taking pre-orders now, shipping fall of 2016
Snap Kitchen
1901 Chestnut Street
Philadelphia, PA 19103
243 Market Street,
Philadelphia, PA 19106
1901 Callowhill Street
Philadelphia, PA 19130
5 S. Morehall Rd
Malvern, PA 19355
https://www.facebook.com/snapkitchen
Made in Philly Fitness Fashion
MBStix
https://www.facebook.com/MBStixLLC/
https://www.instagram.com/mbstix/
Sidestepping Injuries that will sideline your workout
Crozer-Keystone Health Systems Healthplex Sports Medicine
196 W. Sproul Road
Healthplex, Suite 110
Springfield, PA 19064
1800 CK HEALTH
1-800-254-3258
http://www.crozerkeystone.org/Locations/SpecializedCare/specialized-care-profile/?id=82
http://www.crozerkeystone.org/services/sports-medicine/
Crozer-Keystone Healthplex Sports Club
194 West Sproul Rd.
Springfield, PA 19064
610.328.8888
http://www.crozerkeystone.org/Healthplex/
6abc Loves the Arts
MANNA: Shut Up and Dance
Forrest Theater
8pm, April 9th
1114 Walnut Street
Philadelphia, PA 19107
http://www.mannapa.org/shut-up-and-dance-2016/
http://www.forrest-theatre.com/
The Playhouse on Rodney Square
42nd Street, April 19-24
The Playhouse on Rodney Square
DuPont Building
1007 North Market Street
Wilmington, DE 19801
302.888.0200
https://www.facebook.com/ThePlayhouseDE
42nd Street ticket sweepstakes
Shelter Me
Paw it 4Ward
609-970-1872
support@pawit4wardfoundation.com
http://www.pawit4wardfoundation.com/