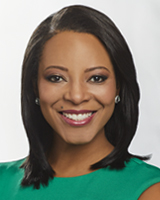 Sharrie Williams joined the Action News team in March 2014. Before arriving in Philadelphia, Sharrie was the weekend anchor and weekday reporter at KTVT-TV in Dallas, Texas. While in Dallas, Sharrie covered major events that made national and international headlines, including Texas' record-breaking winter ice storms and Super Bowl XLV. Prior to working in North Texas, Sharrie spent three years in Miami covering the gamut of stories....from traveling to Haiti in the wake of the four hurricanes of 2008, and later the 2010 earthquake, to covering legal trials of the rich and famous. Sharrie was also front and center when all eyes were on the Miami Heat, covering Shaquille O'Neal's departure in 2008, and LeBron James' much-anticipated decision to join the team in 2010. Success South Florida Magazine selected Sharrie for the "Top 40 Under 40," and she was featured on the publication's cover. With a passion for knowledge and information, Sharrie has a gift for getting the people she interviews to open up and tell their story.

Sharrie's work has also taken her to Birmingham, Alabama, where she was an anchor/reporter for both news and sports at WVTM-TV, and prior to that, Jackson, Tennessee, where she was a news anchor at WBBJ-TV. She earned her undergraduate degree in broadcasting communications from the University of Tennessee. In fact, she began her journalism career while still in college, producing feature stories on Tennessee Volunteer athletes for Fox Sports Net South.

Sharrie enjoys traveling (she can't wait to travel across Africa), listening to live music (Eryka Badu, Kings of Leon and Maxwell are among her favorites) and attending major sporting events. A native of Albany, Georgia, she is the product of a close-knit family which includes her parents, three siblings and now five nieces and one nephew. In her free time, Sharrie is an active volunteer for many community groups and charities, and is passionate about mentoring young girls. Among the many individuals she considers to be role models, she most admires Dr. Martin Luther King, Jr. Her favorite quote from Dr. King is, "An injustice anywhere is an injustice everywhere."

---